Discussion Starter
·
#1
·
Hey everyone,
I'm Blake. I like to ruin perfectly good bikes.
I have been playing with the idea of finding a 70's-early 80's model Gold Wing and stripping it down to bare essentials. A super naked wing. The previous owner says he rode it near daily on his 60 mile round trip for work up to last summer and since then it has been sitting. He said the carbs probably need to be cleaned. He also said it needed some brake work and tires.
i went to see the bike and it looked pretty good for what it was. He said it has been sitting since he got his new bike (last year) and he tried to crank it a couple weeks ago and said he couldnt get it to fire up. I told him if he'd let me and my buddy tinker with it for a few minutes and if we got it running that i'd get it. All i did was spray a little starter fluid into the air box, turned it over and it fired right up. it ran, sorta. It did not like the almost 1 year old gas in the tank. It did crank though. and really easy. So I picked it up.
i think i'm the youngest Gold Wing owner in history at 21. haha i think the moment i look forward to the most once i get the bike how i want it is stopping next to old guys on fully dressed goldwings and talking with them. and suprising all the young guys when i tell them it's a goldwing.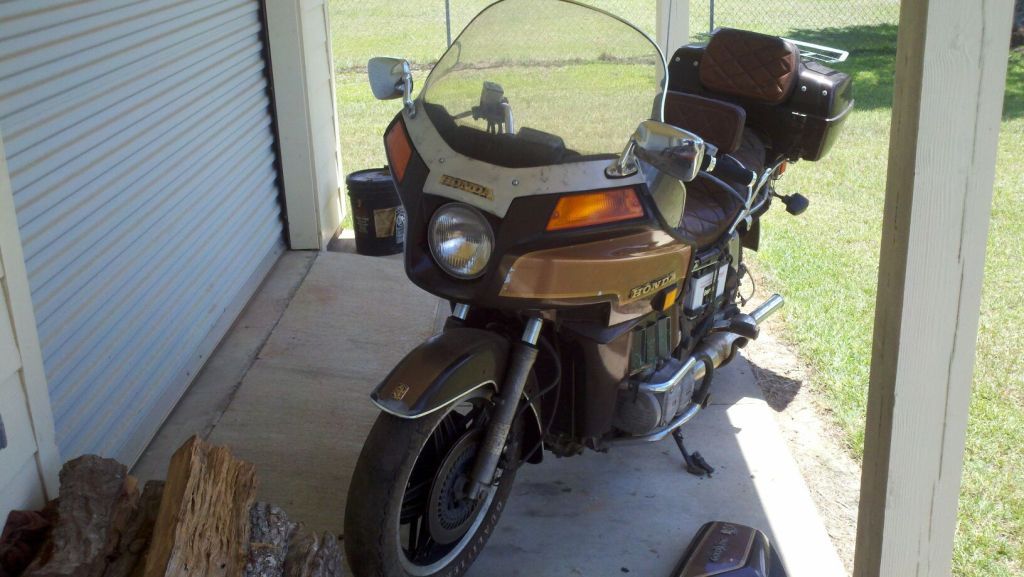 this gold wing will be by far the largest bike i've ridden. my last bike was a 78 suzuki gs 550 bare bones bobber. it was really light for a street bike. 2 guys could pretty easily get it in the back of a truck. this gold wing probably weighs twice what the suzuki did.
so a while back
I took the carbs out and cleaned them then I got the carbs back in and it ran! well cranks up and idles. it turns over 2 maybe 3 times and fired right up. idled. but when i gave it more than about 1/3 throttle, it kinda bogged and acted funny. but i thought that may have been attributed to not having the air box on.
so the next day i went to mess with the bike and there was gas all in the plenum. so drained the carbs. took them back out. the cylinders were full of gas.
i opened up the carbs again. found out i forgot to tighten up the seats... oops.
i drained the gassy oil, changed the filter and filled it back up with fresh oil.
checked over the carbs again, a couple of the slides were sticking. fixed that. found out one of the throttle cables were broke, and found the mount for the choke cable was broke. got the carbs back in, on one throttle cable...
i thought something was wrong with the solenoid. bypassed it and the starter turned fine and it would crank. but the starter sometimes would turn reeaaally slow and sometimes it was fine. it was weird.
i got the carbs back in and the bike was running but it had a hard time idling but higher rpms was fine. opposite of my problem last time.
sounded like it was missing one cylinder. pulled the spark plugs and checked them ones on the left were wet right were dry. swapped the plugs around just to see. nothing changed. then pulled spark plug boots to check if it changed anything. pulled the rear on the left side, bike died instantly. restarted, pulled the front on the left, nothing changed. so one cylinder was down. stuck a screw driver in the boot to check spark and it was extremely weak.
I thought it meant coils.
i wanted to do a compression test but the starter wouldnt turn... so, it was back to not running... got frustrated and stopped for the day. which ended up turning into a few months.
ever since that one day of being angry the bike had done nothing but take up space, so i have been trying to sell it. after a few people coming to look at it and not wanting the bike in it's current state, i got to messing around with it one afternoon replaced the soleniod and wouldnt you know the SOB started up after about 5 minutes of turning over. yeah the starter turned fine And to top it off it runs perfect. no miss, no knock, no lag, no bog. it blew my freakin mind. there was smoke and a good bit of it coming from the headers.
i dont know what exactly it was i did. but hey, whatever it was it worked. and I'm not complaining. i revved it some and it idled without issue for over an hour and a half. the smoke died off and eventually stopped.
the next day i went out to just see if it was still good. turned over 3 times and fired right up. ran perfect. no smoke so i think it was just crap on the headers bc it wasnt blowing out the exhaust. it was running so well that i decided to be brave and take it for a spin around the yard.
that ride killed any chance of me selling this thing. haha
bike has absolutely no brakes what so ever though. so it was easy going.
i took a video of it running.
so umm i reckon it's back on! haha