Cardboard
The Chineese 15th century, first cardboard box was made in England 1817
---
From the Northwest Corner
Ron
The Land of Tall mountains
IDMWT #5
Administrator
Join Date: Jul 2009
Location: Athabasca, Alberta, short season & huge bugs
Posts: 25,827
If a train leaves San Francisco at 11:00 am and averages 45 mph what time will it reach Chicago? What if it's raining?
---
grab all the kicks you can baby, you only make this scene once!
current rides: '09 GL1800AD "SENSHI"; 2003 RVT1000r (RC51) track bike... certified m/c addict. IDMWT #12. GWRRA #028890
Daryl
Super Moderator
Join Date: Aug 2008
Location: 42.23n/ 83.33w/ 636
Posts: 14,971
Quote:
I found out that Ritz Crackers, Peanut butter, & Chocolate make a good combo.......

Here is how you make them......First you get some Ritz Crackers and you put Peanut Butter on one and another on top to make a sandwich. (these are good also) Then you take some of the Hersheys Chocolate that is in big bars (baking isle at Wally World) and melt it in a pot. You fix a spot with wax paper to set your creations on when finished. Take the Ritz & Peanut Butter sandwiches and dip into the chocolate and place on wax paper to harden. Then you get to enjoy.

Oh you can use either White or Regular Chocolate....your choice..


Ok I am through Hijacking.....back to your regular scheduled forum topics....
can i cheat and just put a resee's cup between two ritz crackers
---
'75cb750k '05sunL 70
'79cb750f '93 gl1500 se
'79 super K '85 cb450 sc
'11 GSA
'06 mighty ST1300a
~ william ~
IDMWt #
13
ama
GWOF iba with timS #03
iba 58509
mile eater
hat
moa
I was waiting for this thread, as I never hijack any others. Thanks for permission.
Here is my solo camping setup. If I am going two up, I pull a trailer and use a 6 man tent.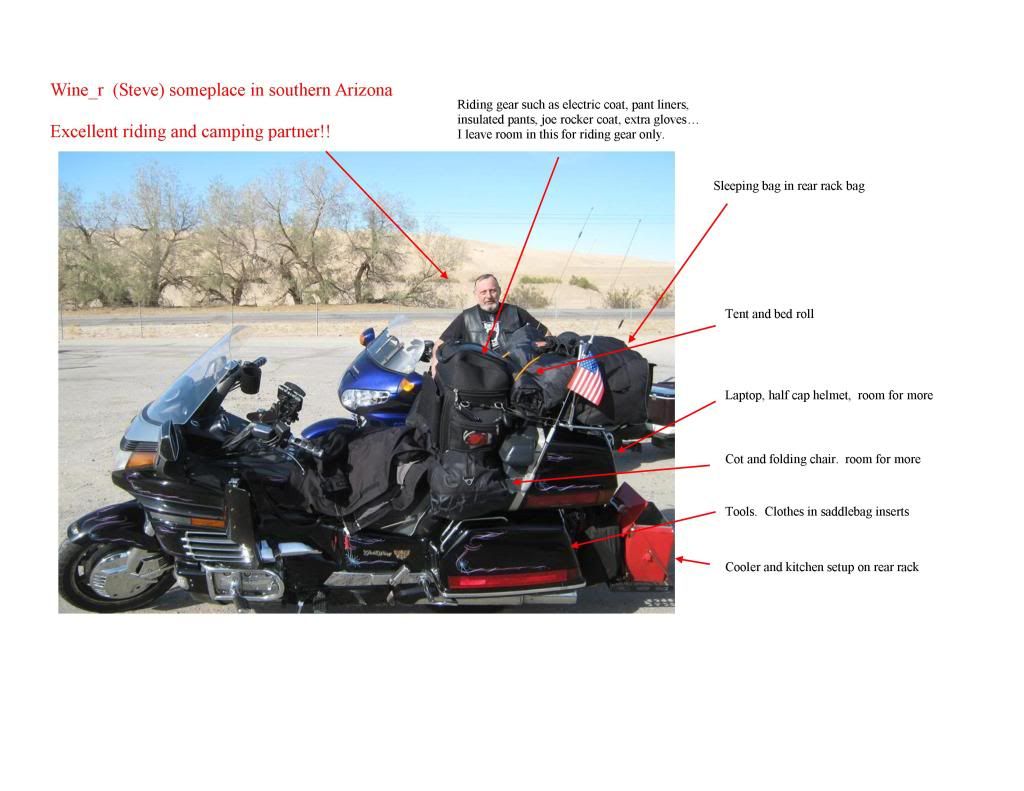 Ravens won. Texas played really well.
Have I mentioned that I have a car tire on my bike? I have 17,000 miles on my car tire. After the next 16,000 miles, I will put another one on.
This is my next rear tire (175/60/16 Dunlop Wintersport run flat):
Here is my bike and trailer:
Lifetime Premium
Join Date: Nov 2009
Location: Centreville, VA 2008 Pearly White.
Posts: 23,352
So I go to the D.C. Motorcycle Show today ( same stuff , different year but who cares ). I stop by a stand that has the Scala Rider G4 paired headsets that I recently ordered and received from Riders Discount here on this forum. He had the same set for purchase for over $400. I said, nonchalantly, to him, " Gee! I just had a set delivered to my house for $279 total ". He looked PO'd and said they are going to crack down on these discount sellers on line very soon. How ominous.
---
Lee.
A Darksider since I finally saw the Light.
---
Last edited by Chopin; 01-15-2012 at

06:21 PM

.
Lifetime Premium
Join Date: Nov 2009
Location: Centreville, VA 2008 Pearly White.
Posts: 23,352
And might I add..... I sat upon a 2012 ( White ) Goldwing on display. I don't know if it was me or the bike, but the handle bars seemed exceedingly low positioned. Also, I had a lady bystander hop on the bike to see how the rear passenger Hondaline armrests worked. Well I wasn't impressed with how they worked for her. They were more elbow rest than arm rests and for her stature it required that she lift her shoulders up and back to rest her elbows on the pads. If and when Mz. Vickie thinks she would like armrest I'm going with the new Rivco style. That alone was worth the $13 admission price to the show.
---
Lee.
A Darksider since I finally saw the Light.
Super Moderator
Join Date: Jul 2009
Location: NE PA
Posts: 27,481
Senior Member
Join Date: Mar 2009
Location: St. Peter's, NS, CAN
Posts: 252
Quote:
I wonder who 1st made cardboard
My Mom would slide down our "Cop'S Hill" on cardboard in the winter and did so the last time when she was 82. When she was 89 she did her last "skinny dip" into the Bras D'Or Lakes. She was a classic and we lost her when she was 91 having been sick for only three weeks in her life.
---
1968 Triumph Tiger 500
1972 Triumph Bonneville 750
1984 Yamaha Virago 1000
2008 GW 1800
Posting Rules

You may post new threads

You may post replies

You may not post attachments

You may not edit your posts

---

HTML code is Off

---