Senior Member
Join Date: Jul 2013
Location: Derby, Ks
Posts: 362
I go about 7.5k and look at it. If it seems dirty I change it, if not I don't go past 9k.
---
Chris

2008 GL1800HPNA
Pearl Challenger Brown
195/55/16 Michelin Alpin PA3 R/F
Darkside #1692
Senior Member
Join Date: Sep 2015
Location: Frankfort, Ky
Posts: 196
I wish I had the time to ride more, but since I ride less than ten thousand miles a year I change my synthetic oil once a season, regardless of miles.
Super Moderator
Join Date: Aug 2008
Location: 42.23n/ 83.33w/ 636
Posts: 13,732
when you should change your oil is in the owners manual and there is nothing in your owners manual that says you can extend the mileage because you are using synthetic oil. I personally have nothing against anyone changing oil at a higher mileage than recommended after all its your wing
---
'75cb750k '05sunL 70
'79cb750f '93 gl1500 se
'79 super K '85 cb450 sc
'99 st 1100
'06 mighty ST1300a
~ william ~
IDMWt #
13
gwrra
ama
GWOF iba with timS #03
iba 58509
mile eater
hat
Lifetime Premium
Join Date: Jul 2011
Location: Bel Air Md
Posts: 5,084
---
2015 GL1800 Candy Apple Red
2006 Victory Vegas
GWOF Member #9500
IDMWT #16
Original GWOF IB Trio Member (gordo,fossill,goldwingking)
AMA Member
NRA Member
A good long ride can clear your mind, restore your faith, and use up a lot of gas
Lifetime Premium
Join Date: Nov 2015
Location: Oologah, OK Indian Territory USA
Posts: 1,159
My 1800 has about 5700 miles on the last oil change, all of it high speed highway while on tour....

shell rotella T5, looks just like it did when I poured it in the engine.

it will get changed in a couple of days before I start out on my next tour...

.
Senior Member
Join Date: Apr 2010
Location: INDIANAPOLIS, IN
Posts: 1,540
Probably not many can remember when Mobile 1 first came out. In our cars/trucks, we were told to run it 25K miles(yes-25,000), change the oil filter(they held a quart back then), add a quart and go another 25K before changing!!!!!!!
Anyway, while under warranty, I would change oil(whatever you use) as recommended by the vehicle manufacturer.
After that, I see no reason not to run synthetic for at least 10K miles!
Lifetime Premium
Join Date: Jul 2012
Location: NW,Oklahoma
Posts: 5,543
I change mine at 10,000 miles using amsoil, when i was running amsoil in a 4 runner i had oil change was 25,000 miles.
---
Current ride
2006 GL1800 Arctic White
1995 1500SE
IDMWT #37
IBA #-50334
Darkside # 1644 Michelin Alpine PA3 ZP
NRA LIFE MEMBER
Cleet certified Firearms instructor since 1980
Concealed carry Firearms instructor
GWOF IB #2 With BIG KEN
Best stress reliever I ever bought until I had the blowout
Hero's dont wear capes, they wear DOG TAGS
Terry
Lifetime Premium
Join Date: Nov 2015
Location: Oologah, OK Indian Territory USA
Posts: 1,159
On my wife's car, a 2007 Pontiac Vibe, it has had synthetic of some brand since the 1st change at the dealer.
After that, it got changed whenever our son was close by, about once a year
since we got back together again, I change it Dec 1st or there abouts....
and usually, it is somewhere between 8000-10000 miles...
so far, the oil coming out looks almost as good as the oil going in.
.
Senior Member
Join Date: Jan 2016
Location: Post Falls, ID
Posts: 222
The car oil setup is different than a bike configuration. On a car the transmission is separate and has its own fluid. 10k on synthetic is nothing for a car. On a bike, the engine oil is also used for the wet clutch and transmission. More of a chance of getting clutch fibers and gear chips on a bike, as a result I do not go more than 4000 miles on any type of oil, don't want all that "stuff" getting into my valvetrain, which will be much more costly than an oil change.
It would be nice if the wing had a setup like the Honda CRF250/450Rs do where there is separate oil systems, one for the engine/valvetrain and one for the transmission.
---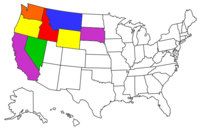 Ed
2010 Gold Wing "Vader"
2010 FJR13 "Mackenzie"
Posting Rules

You may post new threads

You may post replies

You may not post attachments

You may not edit your posts

---

HTML code is Off

---