this one is for you Chop!
---
Ok, so I have this bad habit of being a prankster and a smart arse. I am sure you regulars have seen this already and I hope no one here is thin skinned enough to let it hurt their feelings. I don't think that is the case however and that is not what this thread is about.
This thread is about one of those times when someone pranked me back because they had the balls to do so........lol.
Listen to the story before you look at the pictures.
About 2 months before I bought the Goldwing, there were 3 other guys that work here who ride bikes. Two of them already had been backed into by another employee and knocked over when someone pulled into a parking at night because they could not see it.
So I issued some new parking rules. I designated one of the outside spots as "Motorcycle parking ONLY". Perfect spot for bikes and no way to pack into them or not see them. Ok, fast forward to march. There is obviously someone here who is envious of my bike and thought it would be funny to pull a little prank on me. I go to leave one evening and this was parked along with the "Bikes". Please notice the writing on the pack thing hanging from the bars (the poor spelling was a clue to who did it). It is basicly a poor mans Goldwing!
I laughed so fuggin hard I was crying. I finally found out who did it when they came asking for his son's bike back that he used to do this. So I let him suffer till the next day by telling him we tossed it in the scrap metal bin and it was picked up already! ( I gave it back the next day)
Pictures below..........
>
>
>
>
>
>
>
>
>
>
>
>>
>
>
>
>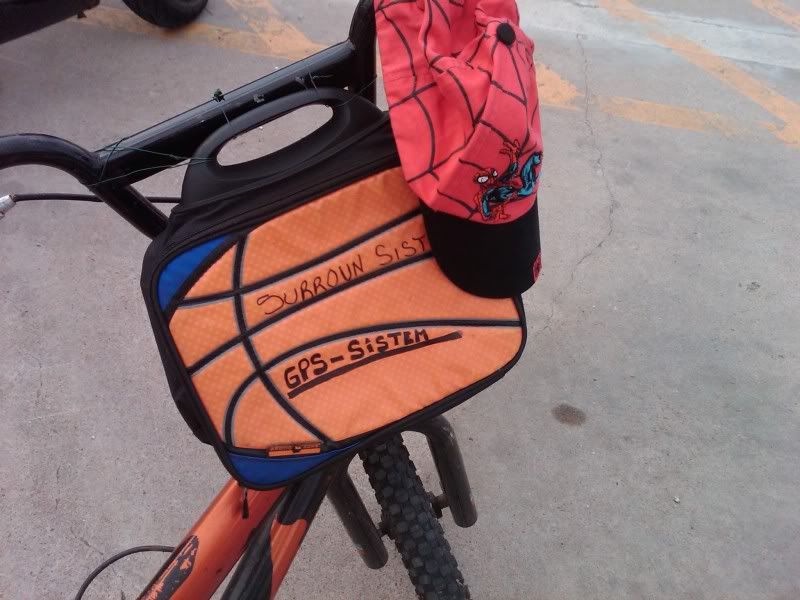 Super Moderator
Join Date: Dec 2009
Location: Meltonville, Mississippi
Posts: 10,710
Now that's a hoot! Glad someone had the stones to get you back. It's always good when they do.
---
Mark
It matters not how good you are if an angel pees on the flintlock of your musket.
Old German Military saying.
2010 Honda GL1800/2006 Yamaha Stratoliner
GWOF IB Hat #1 with WARWGN
IDMWT #86
Senior Member
Join Date: Apr 2010
Location: Jackson, WI
Posts: 217
Nothing like a good old fashion prank to clear the lungs out....give that person a raise!....
However...I am concerned that the GW parking space is not by the front door....whos got the front door spot...Harley....
---
Lab Rider....If it does not have four legs and retrieves ducks...it better be a Goldwing...
Senior Member
Join Date: May 2010
Location: Spring, Tx
Posts: 471
Quote:
However...I am concerned that the GW parking space is not by the front door....whos got the front door spot...Harley....
i am afraid the Owners and plant manager have the front door, the rest of the front ( about 50 feet to the right of the wing ) is reserved for vendors and customers.
I am happy with that spot because the security camera is 15 feet above it and I can see everything!
Ok, well, except for the day the bicycle showed up.
Lifetime Premium
Join Date: Nov 2009
Location: Centreville, VA 2008 Pearly White.
Posts: 20,456
" SURROUN SISTEM " ! You are the nicest bully on the block.They tease because they care. There must be something ingratiating about you that I just don't see. When your bad your good you sob!!!!!!!!!!!!
---
Lee.
---
Last edited by Chopin; 07-24-2010 at

12:53 PM

.
Posting Rules

You may post new threads

You may post replies

You may not post attachments

You may not edit your posts

---

HTML code is Off

---