Son graduating UT Austin Friday
---
My oldest son, Christian (42) is graduating from UT Austin on Friday with a degree in RTF (Radio, Television, Film). Originally Deb and I were going to go but she's a bit under the weather as it appears it's just me attending graduation ceremonies from up our way. I have another son in Austin I'll be staying with and perhaps my son from San Diego will fly in too. I'm particularly proud of Christian as he went back to school as an old man compared to his contemporaries and maintained a 4.0 grade average and worked full time and paid his way 100%. Since Deb can't make it looks like I might take the SW for my 250 mile trek south on Friday. Bike is clean and ready.
---
Dan Bowman

2003 Honda Silverwing ABS
2005 Kymco Bet and Win 250
Senior Member
Join Date: Jan 2016
Location: Post Falls, ID
Posts: 222
Congratulations on his achievement.
---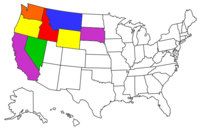 Ed
2010 Gold Wing "Vader"
2010 FJR13 "Mackenzie"
Administrator
Join Date: Jul 2009
Location: Athabasca, Alberta, short season & huge bugs
Posts: 21,202
Well done Christian! Rid safe Dan.
---
GEEZER IN TRAINING AND LOOKING FORWARD TO IT
[/COLOR]current rides: '09 GL1800AD "SENSHI"; 2003 RVT1000r (RC51) track bike... certified m/c addict. IDMWT #12. GWRRA #028890
Daryl
Lifetime Premium
Join Date: Nov 2009
Location: Centreville, VA 2008 Pearly White.
Posts: 20,453
Nice ! The son I should have had.


Sent from my iPhone using Tapatalk
---
Lee.
Lifetime Premium
Join Date: Feb 2010
Location: N.W. Washington
Posts: 14,007
Congratulations to Christian
And you ride safe.
---
From the Northwest Corner
Ron
The Land of Tall mountains
IDMWT #5
Senior Member
Join Date: Jan 2014
Location: Arlington, Texas
Posts: 268
Congrats to your son and you ride safe. Have fun on 6th Street
---
-------
Tom
IDMWT Club Member # 82
Have you confessed today?
Super Moderator
Join Date: Dec 2009
Location: Meltonville, Mississippi
Posts: 10,700
Pass on our congratulations from all of us.
---
Mark
It matters not how good you are if an angel pees on the flintlock of your musket.
Old German Military saying.
2010 Honda GL1800/2006 Yamaha Stratoliner
GWOF IB Hat #1 with WARWGN
IDMWT #86
Senior Member
Join Date: Aug 2012
Location: Winterville, NC
Posts: 5,469
Congratulations to you both!
---
Senior Member
Join Date: Dec 2011
Location: Troup, TX
Posts: 6,806
Thanks all. These moments are the high spots of parenting. Part of our reward for all the blood, sweat and tears of raising these youngsters to responsible adulthood. Chris also had to overcome a trajedy when he fell asleep at the wheel and it killed his mother and girl friend and a grandmother and 2 children in the other car. He's come along way.
---
Dan Bowman

2003 Honda Silverwing ABS
2005 Kymco Bet and Win 250
Senior Member
Join Date: Aug 2015
Location: Stafford, VA
Posts: 976
Great accomplishment. Congrats to both of you.


Sent from my iPhone using Tapatalk
---
2015 Goldwing NAV/ABS
IDMWT #81
Fredericksburg, Virginia
Posting Rules

You may post new threads

You may post replies

You may not post attachments

You may not edit your posts

---

HTML code is Off

---